Histograms
A Histogram is a graphical display of data using bars of different heights.
It is similar to a Bar Chart, but a histogram groups numbers into ranges

And you decide what ranges to use!
Example: Dress Shop Survey
You asked customers who bought one of the "Aurora" range of skirts how old they were.
The ages were from 5 to 25 years old.
You decide to put the results into groups of 5:
The 1 to 5 years old range,
The 6 to 10 years old range,
etc...
So when someone says "I am 17"
you add 1 to the "16-20" range.

And here is the result:

You can see (for example) that there were 30 customers between 6 and 10 years old
Histograms are a great way to show results of continuous data, such as:
weight
height
how much time
etc.
| | | |
| --- | --- | --- |
| But if your data is in categories (such as Country or Favorite Movie), then you should use a Bar Chart. | | |
Frequency Histogram
A Frequency Histogram is a special histogram that uses vertical columns to show frequencies (how many times each score occurs):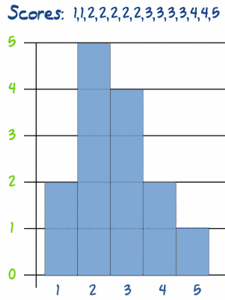 Here I have added up how often 1 occurs (2 times), how often 2 occurs (5 times), etc, and shown them as a histogram.