Slope (Gradient) of a Straight Line
The Slope (also called Gradient) of a straight line shows how steep a straight line is.
Calculate
The method to calculate the slope is:
Divide the change in height by the change in horizontal distance
| | | | | |
| --- | --- | --- | --- | --- |
| | Slope = | | | |
Examples:
The slope of this line =
=

1

So the slope is equal to 1
slope =
=

2
The line is steeper, and so the slope is larger.
slope =
=

0.6
The line is less steep, and so the slope is smaller.

Positive or Negative?
Important:
Starting from the left end of the line and going across to the right is positive
(but going across to the left is negative).
Up is positive, and down is negative

slope =
=

–2
That line goes down as you move along, so it has a negative slope.
Straight Across

slope =
=

0
A line that goes straight across has a slope of zero.
Straight Up and Down
slope =
=

undefined
That last one is a bit tricky ... you can't divide by zero,
so a "straight up and down" (Vertical) line's slope is "undefined".
Rise and Run
Sometimes the horizontal change is called "run", and the vertical change is called "rise" or "fall":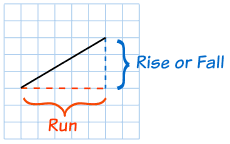 They are just different words, none of the calculations change.