Unfolded Cube Puzzle
Figure out the color of the surface by studying the see-through version
(Instructions Below)
Instructions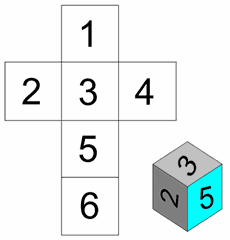 Here you can see the surface of a cube in its "unfolded" form (called a
net of a cube
) and also its "folded into a cube" form.
Now in our case the big cube is also made of 27 smaller glass cubes (3 rows, 3 columns, 3 deep), which are either clear or blue.
And as you look
through
the cube, you can tell the colors of the 3 small cubes behind like this:

• Darkest is 3 Blues
• Next is 2 Blues, 1 Clear
• Then 1 Blue, 2 Clears
• Lastly 3 Clears
Your job is to correctly identify the color of the square
on the surface
.
Use the "Clue" button to reveal one square. You can continue to press the "Clue" button until you solve the puzzle, but that isn't a challenge is it?