Months
There are twelve months in a year:


Here are the twelve months in detail:
Month
Number

Month

In 3
letters
Days in Month
1

January

Jan
31
2

February

Feb
28 (29 in leap years)
3

March

Mar
31
4

April

Apr
30
5

May

May
31
6

June

Jun
30
7

July

Jul
31
8

August

Aug
31
9

September

Sep
30
10

October

Oct
31
11

November

Nov
30
12

December

Dec
31
February
The strangest month of all is February.
February has only 28 days, but on Leap Years February has 29 days!
How to Remember
You can remember how many days in each month using this rhyme:
30 days has September,
April, June and November.
All the rest have 31
Except February alone,
Which has 28 days clear
And 29 in each leap year.
Or you can use the "knuckle method":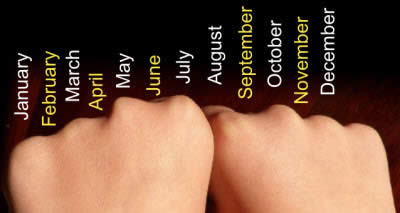 A knuckle is "31 days", and in between each knuckle it isn't.
And where you hands meet, the two knuckles are "July, August", which both have 31 days.
(Note: the last knuckle isn't used)
Example: October is on a knuckles, so it has 31 days
See The Days in Each Month
See the days in each month (use the arrows to change the month):
The Moon
| | |
| --- | --- |
| | The months were originally based on the movement of the moon (the words moon and month are related), but this did not work out perfectly to one year. |
So they changed how many days in some months to make them all add up to one year.