Cube (Hexahedron)
Go to Surface Area or Volume.
Cube (Hexahedron) Facts
Notice these interesting things:
It has 6 Faces
Each face has 4 edges (and is a square)
It has 12 Edges
It has 8 Vertices (corner points)
and at each vertex 3 edges meet
It is one of the Platonic Solids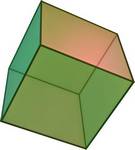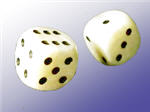 Cubes make nice 6-sided dice, because they are regular in shape, and each face is the same size.
In fact, you can make fair dice out of all of the Platonic Solids.
A cube is also called a hexahedron because it is a polyhedron that has 6 (hexa- means 6) faces.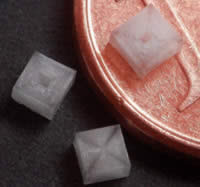 Salt crystals grow in cube-like shapes.
(Because the atoms link up as corners of a cube.)
Surface Area
Surface Area = 6 × (Edge Length)2
Example:
Edge Length

= 4
| | | |
| --- | --- | --- |
| Surface Area | | = 6 × (Edge Length)2 |
| | | = 6 × 42 |
| | | = 6 × 16 |
| | | = 96 |
Volume
Volume = (Edge Length)3
Example:
Edge Length

= 4
| | | |
| --- | --- | --- |
| Volume | | = (Edge Length)3 |
| | | = 43 |
| | | = 4 × 4 × 4 |
| | | = 64 |